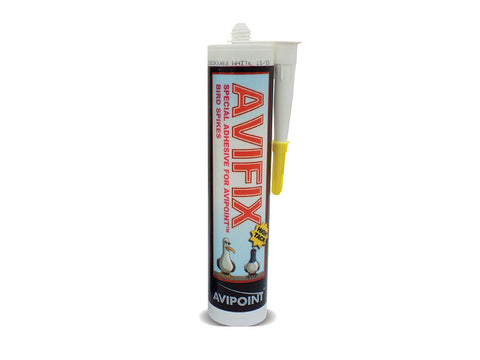 Avifix Bird Spike Adhesive
Avifix Adhesive for Bird Spikes is a specialist silicone neutral adhesive that can be used on damp surfaces designed for use with bird spikes on all usual building surfaces (including glass).
Other silicone adhesives contain solvents that leach out of the silicone bead, over time, causing shrinkage which degrades the joint.
The Bird Spike Adhesive has good weather resistance for temperatures of -60°C to +180°C.
AVIFIX Adhesive is suitable for all the different types of bird spikes. Including polycarbonate and the Avipoint range of stainless steel bird spikes.
AVIFIX is grey in colour, high quality, neutral curing silicone adhesive for use with all types of bird spikes. .
Provides excellent adhesion of bird spikes on most building materials including brick, concrete, stone, plaster, paint, stainless and galvanised steel, lead, copper, brass, aluminium, PVC, PPC, ceramic tiles and glass .
A wide temperature and UV resistance 1 tube can install up to 15m of Avipoint Bird Spikes Use with a caulking gun.
A superior adhesive, Avifix Hi-Tack Adhesive Grey is specially designed for fixing Avipoint products. Based on a powerful mixture of substances, the product provides excellent securing for all Avipoint models.


PROPERTIES
Substance: Trimethoxyvinylsilane;
Physical form: Paste;
Superior adhesive;
Excellent adherence to various surfaces.
Compatible with all Avipoint products.


RECOMMENDATIONS
Use caulking gun;
Use protective gloves while using Avifix Hi-Tack Adhesive Grey;
Keep out of children and pets reach;
Avoid heated areas and flames;
In order to avoid accidental contamination, keep the container tightly closed.
---
We Also Recommend